Delhi – The Capital of India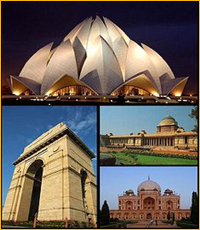 Delhi
sometimes referred to as
Dilli
, is the second largest city in India, with over 11 million residents, the eight largest metropolis in the world by population. It is a federally administered union territory officially known as the National Capital Region.
Located on the banks of river Yamuna in northern India, Delhi has been continuosly inhabited since at least the 6th century BC, according to archaeological evidence. After the rise of the Delhi Sultanate, Delhi emerged as a major political, cultural and commercial city along the trade routes, between northwest India and the Indo Gangetic plains. It is the site of many ancient and medieval monuments, archaeological sites and remains
When India gained independence from British rule in 1947, New Delhi was declared its capital and seat of government. As such, New Delhi houses important offices of the federal government, including the Parliament of India.
Climatic Conditions: Delhi has a continental climate with high variation between summer and winter temperatures. Summers are long, from early April to mid-October, with the monsoon season in between. Winter starts in late October and peaks in January and is notorious for its heavy fog. Extreme temperatures range from -0.6 (30.9) to 47 °C (117 °F) The annual mean temperature is 25 °C (77 °F); monthly mean temperatures range from 13 °C to 32 °C (56 °F to 90 °F). The average annual rainfall is approximately 714 mm (28.1 inches), most of which is during the monsoons in July and August. The average date of the advent of monsoon winds in Delhi is 29 June.
Temperature between end August and early September will be approximately as below:

Max C: 34, Min C: 24, Rain mm: 170

Transport


Public transport in Delhi is provided by buses, auto rickshaws and a rapid transit system. highways.
Buses are the most popular means of transport catering to about 60% of the total demand. The Delhi Metro, a mass rapid transit system built and operated by Delhi Metro Rail Corporation (DMRC), serves many parts of Delhi.
Auto rickshaws are one of the popular means of public transportation in Delhi, as they charge a lower fare than taxis. Taxis are not an integral part of Delhi public transport, though they are easily available. Private operators operate most taxis, and most neighborhoods have a taxi stand from which taxis can be ordered or picked up.
The Rajpath in Raisina Hill, New Delhi. Private vehicles account for 30% of the vehicles. An average of 963 new private vehicles are registered for use on Delhi's roads every day.
Indira Gandhi International Airport (IGI) is situated in the southwestern corner of Delhi and serves as the main gateway for the city's domestic and international civilian air traffic.
Culture & Cuisine: Delhi's culture has been influenced by its lengthy history and historic association as the capital of India. This is exemplified by the many monuments of significance found in the city; the Archaeological Survey of India recognises 175 monuments in Delhi as national heritage sites. The Old City is the site where the Mughals and the Turkic rulers constructed several architectural marvels like the Jama Masjid (India's largest mosque) and Red Fort. Three World Heritage Sites—the Red Fort, Qutub Minar and Humayun's Tomb—are located in Delhi. Other monuments include the India Gate, the Jantar Mantar (an 18th century astronomical observatory) and the Purana Qila (a 16th century fortress). The Laxminarayan Temple, Akshardham and the Bahá'í Lotus Temple are examples of modern architecture. Raj Ghat and associated memorials houses memorials of Mahatma Gandhi and other notable personalities. New Delhi houses several government buildings and official residences reminiscent of the British colonial architecture. Important structures include the Rashtrapati Bhavan, the Secretariat, Rajpath, the Parliament of India and Vijay Chowk. Safdarjung's Tomb is an example of the Mughal gardens style
Religious festivals include Diwali (the festival of lights), Mahavir Jayanti, Guru Nanak's Birthday, Durga Puja, Holi, Lohri, Maha Shivaratri, Eid and Buddha Jayanti.
Punjabi and Mughlai delicacies like kababs and biryanis are popular in several parts of Delhi. Due to Delhi's large cosmopolitan population, cuisines from every part of India, including Rajasthani, Maharashtrian, Bengali, Hyderabadi cuisines, and South Indian food items like idli, sambar and dosa are widely available. Local delicacies include Chaat and Dahi-Papri. There are several food outlets in Delhi serving international cuisine including Italian and Chinese.
Tourist Attractions:
| | |
| --- | --- |
| Lotus Temple is a Bahai House of Worship and the Mother Temple of the Indian Subcontinent. | Jantar Mantar - Astronomical observations were regularly made over here and these observations were used for drawing up a new set of tables |
| The Akshardham Temple in Delhi is the largest Hindu temple complex in the world. | The Jama Masjid is the largest mosque in Asia-Pacific. |
| At 72.5 meters, the 13th century Qutub Minar is the world's tallest brick minaret. | Mausoleum of Ghiyath al-Din Tughluq at Tughlaqabad Fort. |
| Humayun's Tomb is one of Delhi's most famous landmarks. The monument has an architectural design similar to the Taj Mahal. | The Red Fort is the site from which the Prime Minister of India addresses the nation on Independence Day. |
| The North Block, built in 1931 during the British Raj, houses key government offices. | Rashtrapati Bhavan is the presidential palace. |
| The India Gate is one of the most famous monuments in Delhi. Built in the memory of more than 90,000 Indian soldiers who lost their lives during the Afghan Wars and World War I. | Raj Ghat, the memorial to Mahatma Gandhi, it is a simple black marble platform that marks the spot of his cremation on 31 January 1948. |
Agra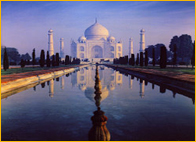 Agra
is a city on the banks of the Yamuna River in the northern state of Uttar Pradesh, India. It finds mention in the epic Mahabharata when it was called Agrabana, or Paradise.Tradition and legend ascribe the present city of Raja Badal Singh (around 1475) whose fort, Badalgarh, stood on or near the site of the present Fort. However, the 12th century Persian poet Salman writes of a desperate assault on the fortress of Agra, then held by one King Jaipal, by Sultan Mahmud of Ghazni. It was ruled by Sultan Sikandar Lodi in the year 1506. It achieved fame as the capital of the Mughal emperors from 1526 to 1658 and remains a major tourist destination because of its many splendid Mughal-era buildings, most notably the Taj Mahal, Agra Fort and Fatehpur Sikri, all three of which are UNESCO World Heritage Sites.
Climate: Agra, located on the Indo-Gangetic plain has a continental sub-tropical climate, with long, hot summers from April to September when temperatures can reach as high as 45 °C (113 °F). During summers dry winds (loo) blow in this region. The monsoon months from July to September see about 67 cm (27 inches) of rainfall annually. Winters last from November to February, with day time temperatures comfortably warm, but temperatures below freezing are not uncommon during the night. Agra is also prone to dense fog during the winter months of December & January.
Temperature in September is as below:
Max C: 37, Min C: 25
Transportation
By Air: Agra Airport at Kheria is about 6 km from the city centre, but is not very well connected. It has flights to very few cities. Indira Gandhi International Airport in Delhi is the best option. Agra is very well connected to Delhi both by rail and road.
By Rail: Agra is on the main train line between Delhi (Station Code : NDLS) and Mumbai (Bombay) (Station Code : CSTM) and between Delhi and Chennai (Station Code : MAS) and many trains connect Agra with these cities every day. Some east-bound trains from Delhi also travel via Agra, so direct connections to points in Eastern India (including Kolkata) (Calcutta) are also available. There are close to 20 trains to Delhi every day, and at least three or four to both Mumbai and Chennai.
By Road: Idgah Bus Stand is the biggest Bus Stand in Agra and is connected to most of the bigger cities in North India.