About Delhi & Agra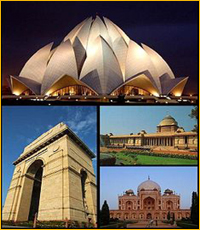 Delhi sometimes referred to as Dilli, is the second largest city in India, with over 11 million residents, the eight largest metropolis in the world by population.
The theme for the Asia-Pacific Association of Banking Institutes' (APABI) International Conference-2015 is "New Paradigms in Banking". The conference will bring together industry captains, policy makers, thought leaders and scholars of the most important industry who will share their perspectives on the issue in a thought provoking environment. The changing customer preferences, introduction of new regulatory guidelines, development in IT, evolving social media, inclusive banking etc. will lead to different models in banking sector. Each Bank might have experienced and exploring innovative models in different segments of banking operations. The conference is expected to explore the thoughts and perspectives different speakers.

It is expected that the Conference will be attended by banking and finance executives in India and international delegates from different member countries of APABI and delegates from Banking Institutes in countries such as Egypt, Bahrain, Zambia, Nigeria, Tanzania, Kenya, Botswana and Dubai are also expected to attend the Conference.

As a part of the conference the Institute will hold its very prestigious annual Sir Purushotamdas Thakurdas Memorial Lecture.