About Mumbai

Mumbai was named an alpha world city. It is also the wealthiest city in India, and has the highest GDP of any city in South, West or Central Asia.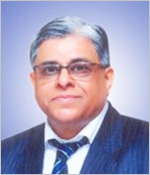 PROFILE
PERSONAL INFORMATION
Name : TEJENDRA MOHAN BHASIN

Date of Birth : 23rd May 1956

Present Assignment : CHAIRMAN & MANAGING DIRECTOR INDIAN BANK (Govt. of India Undertaking) -(w.e.f. 01.04.2010)

Educational
& Professional : MBA (Finance) from Faculty of Management Studies, (FMS), University of Delhi. (1984-87)

Qualifications


Advanced Financial Management Programme at IFK School of Government, Harvard, US (2004)
LL.B. from Campus Law Centre, University of Delhi (1980-83)
Certified Associate of Indian Institute of Bankers (CAIIB) (1988)
M.Sc.(Gold Medalist) (1975-77)
One Year Diploma in Criminology and Forensic Science (Delhi University Topper) (1983-84)
Academic Achievements
National Merit Scholar. All through 1st Class and University Topper in (i) MBA(Finance); (ii) M.Sc., and (iii) Diploma in Criminology & Forensic Science.
Accomplished research under C.H. Bhabha Research Scholarship Scheme of IBA 1999-2000 on "E-Commerce in Indian Banking".
Authored a Book on "E-Commerce in Indian Banking" 616 pages published by Authors Press, New Delhi (2002).
BANKING EXPERIENCE
Joined Oriental Bank of Commerce (OBC) as Probationary Ofiicer in June, 1978, and served in different capacities for three decades upto General Manager in Oriental Bank of Commerce before being elevated as Executive Director, United Bank of India on 07.11.2007.
Consequent upon due selection process by Government of India and Reserve Bank of India, was selected and appointed as Executive Director in United Bank of India with efiizct from 7th November 2007.
Appointed as Chairman and Mamiging Director of Indian Bank with eflect from 1st April 2010 by Government of India
AWARDS / ACCOLADES
During the Chairmanship, Indian Bank has received various awards and accolades such as:
Indian Bank has been conferred with the coveted National Award for Excellence in Lending to Micro Enterprises for FY 2012 on 4th April 2013 by the Honfble President of India.
Received National Award to Banks - 2012-13 - First Prize for Excellence in Lending to Micro Enterprises from Hon'ble Prime Minister of India on 1st March 2014.
Received 1st Prize and the Best Bank Award for extending Credit to SHGS continuously since 2010. The Award for 2012-13 was received from Selvi Dr I Jayalalithaa, Hon'ble Chief Minister of Tamil Nadu on 24th February 2014.
SPECIAL ACHIEVEMENTS
Chairman, Working Group to Review the Kisan Credit Card Scheme constituted by Department of Financial Services, Ministry of Finance, Government of India (2011-12). Report Accepted and is being implemented by all Banks.
Convenor & Chairman of the "Task Force for extending Banking Facilities in Unbanked Gram Panchayats in the state of West Bengal" set up by the Reserve Bank of India in December 2007. Report Accepted and Implemented by all Banks.
OTHER HONORARY ASSIGNEMENTS
Deputy Chairman, Indian Bank's Association (IBA)
Chairman, Education Loan Committee of Indian Banl's Association (IBA)
Chairman, Financial Inclusion Committee of IBA
Chairman, IBA Standing Committee on HR and Wage Negotiation
Director on the Board of United India Insurance Co Ltd
Member on Governing Board of National Institute of Bank management
Vice President, Indian Institute of Banking and Finance (IIBF)
Chairman of the Governing Board of the Institute of Banking Personnel Selection (IBPS)
Member of the Core Group of the Financial Services Technology consortium (FSTC) of IDRBT.
Chairman, FICCI Committee on Banking and Financial Institutions - 2014
Member, CII National Committee on Financial Inclusion 2014-15.