About Mumbai

Mumbai was named an alpha world city. It is also the wealthiest city in India, and has the highest GDP of any city in South, West or Central Asia.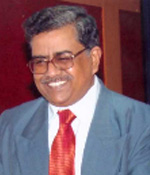 Dr. R. Bhaskaran is the Chief Executive Officer of Indian Institute of Banking and Finance. He is a post graduate in Commerce (University rank holder) from Madras University. He also holds a PG diploma in financial Management and a PG Diploma in Treasury and Forex management. He is a fellow of the Indian Institute of Banking and Finance and a Ph.D in Banking from the University of Pune. He is an alumni of the Global Leadership Development Program offered by ICLIF Malaysia and the Top Management Program by MDI Gurgaon.

He joined the banking industry as an officer in Bank of India in the year 1975. Later, he moved over to National Bank for Agriculture and Rural Development (NABARD) wherein he held many positions and rose to the level of Chief General Manager. During this period he has also worked as Joint Director and Director in charge of Bankers Institute of Rural Development an apex Institute in Rural Development. He joined IIBF as its CEO in the year 2004. He has successfully steered the IIBF in the last 10 years. He has been instrumental in designing and offering new courses and programmes for the banking and finance sector. Under his stewardship the Institute has grown bigger and offers 7 diploma courses, many certificate courses and management courses in addition to JAIIB & CAIIB. The Institute offers courses to BPO/IT companies. It has pioneered a special course for the field functionaries of financial inclusion. The Institute has adopted technology to deliver distance education to professionalize bankers. Dr. Bhaskaran leads the Institute's consultancy efforts in banking/education. Under his leadership, the Institute has evolved as a full fledged banking education institute covering areas such as education, training, examination, consultancy and continuing professional development.

He has written books on 'An Introduction to Investment for banks in India', Financial Risk Management and 'Kisan Credit Card – Evolution & prospect'. He has published a number of articles and has presented many papers on national and international forum. He writes regularly in the portal of IIBF. His expertise is in Risk Management, Rural Development and Cooperative Banking.