About Mumbai

Mumbai was named an alpha world city. It is also the wealthiest city in India, and has the highest GDP of any city in South, West or Central Asia.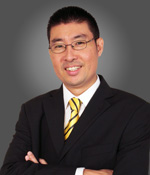 John joined Maybank in May 2010. He is the Managing Director & Group Head of Transaction Banking for Maybank. He drives the Transaction Banking division comprising four distinct and inter-linked business units involved in the manufacturing and provision of transactional banking services across all client segments. They are Cash Management, Trade & Supply Chain Financing, Securities Services and Financial Institutions (FI) and Non-Bank FI. In addition to Malaysia, John is also responsible for the Transaction Banking business across the region for ASEAN and Greater China.

Prior to joining Maybank, John held various key positions in Standard Chartered Bank such as Head of Product Management & Implementation, Director, Head of Global Corporate Sales, Transaction Banking, Head of Consumer Transaction Banking and Head of Personal Banking, Distribution.

John is a member of the Executive Board for International Chamber of Commerce (ICC) Malaysia and holds the position of Chairman under the Banking Working Committee for ICC Malaysia. He is also Chairman of Permanent Committee on ASEAN Inter-Regional Relations for the ASEAN Bankers Association (ABA) and became an associate member of the Institute of Bankers Malaysia (IBBM). In addition, John has been elected by the Bankers Association for Finance and Trade (BAFT) to serve as Co-Chair of the BAFT Asia Council and to be part of their Board of Directors (effective May 2014). John also represents Maybank as a life member for the Malaysia-China Chamber of Commerce (MCCC).

John holds a Masters in Business Administration from Southern Cross University Australia.