About Mumbai

Mumbai was named an alpha world city. It is also the wealthiest city in India, and has the highest GDP of any city in South, West or Central Asia.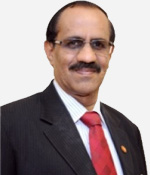 Shri K.R. Kamath joined as Chairman & Managing Director of Punjab National Bank on October 28, 2009. Prior to his current assignment Shri Kamath spent almost three decades in Corporation Bank before moving on to Bank of India as Executive Director in May 2006 and then to Allahabad Bank as Chairman & Managing Director in August 2008.

Recently, Shri K.R. Kamath has been re-elected as the Chairman of Indian Banks' Association (IBA). He is also the Chairman of Governing Board of Institute of Banking Personnel Selection (IBPS). Shri Kamath is also the President of Indian Institute of Banking & Finance (IIBF) and Bankers' Club, Delhi. He is the member of Governing Board of National Institute of Bank Management (NIBM), Pune and Governing Council of Institute for Development & Research in Banking Technology (IDRBT), Hyderabad.

Known for his conceptual clarity, insight, communication skills and ability to build result oriented teams, Shri K.R. Kamath has led initiatives for promoting sound and efficient corporate governance practices in the banks he headed.

Accomplishments:

Shri Kamath has been successful in changing the public perception about PNB and improving rankings of the Bank on various prestigious platforms is evidence to the fact. Under the leadership of Shri Kamath, PNB's rank improved from 239th in 2009 to 170th in 2013 in The Banker's Top 1000 Banks of the World. Recently, Shri K.R. Kamath, CMD, PNB has been adjudged the Most Powerful CEOs amongst the Nationalised Banks in India by Economic Times. The overall rank in the list improves to 39 in 2013 from 50 last year by Economic Times. Shri Kamath also received the "Lifetime Achievement Award" for the year 2013 by Dainik Bhaskar Group. BT-PwC recognised Shri K. R. Kamath amongst Top 100 Best CEOs in India being the only Chairman of the public sector bank.

Under the motivating leadership of Shri K.R. Kamath, the Bank has won many prestigious Awards in varied fields. To name a few amongst the recently won Awards are Most Innovative Mass Retail Lender for under-served segment in BANCON 2013, IDRBT Technology Excellence Awards 2013 for "Customer Management and Business Intelligence Initiatives" by IDRBT, Hyderabad and SKOCH Financial Inclusion Award. Bank also won 4th Asia's Best Employer Brand Awards 2013 and 3rd Asia's Best CSR Practices Awards 2013 in Singapore recently. Apart from it, Bank also won Golden Peacock Business Excellence Award 2013 by Institute of Directors, Most Socially Responsive Bank by Businessworld-PwC for the second time in a row, "Best Public Sector Bank" by CNBC TV 18 India, Indian Banks' Association's awards for Best Use of Business Intelligence, Best Risk Management & Security Initiative, Asia Pacific HRM Congress Awards for "Organization with Innovative HR practices", Best Bankers' Awards under Agriculture Lending (Large Banks) by The Sunday Standard, Best Public Sector Bank under Priority Sector Lending by Dun & Bradstreet Polaris. Bank was also conferred with the National Award for excellent performance in lending under PMEGP Scheme of KVIC in North Zone by Ministry of MSME, GOI. His inspiring guidance has helped Bank to win awards in the past also viz. Best Bank Award 2011 by Business India, "Overall Most Productive Public Sector Bank" by FICCI and IBA, SCOPE Trophy for "Best Managed Bank" for the year 2009-10, etc.

Under his guidance, Bank has also got distinction of being the first Bank in India to get an approval from Reserve Bank of India for migrating to "The Standardized Approach" for Operational Risk on a pilot basis and it has also received RBI's approval for participation in parallel run of Foundation Internal Rating Based (FIRB) approach.

Other Positions Held:
Present:
Shri Kamath is the Chairman of PNB Housing Finance Ltd., PNB Gilts Ltd., PNB (International) Ltd. and PNB Investment Services Ltd. He is Director on the Boards of Export Credit Guarantee Corporation of India Ltd. (ECGC), India Infrastructure Finance Co. Ltd (IIFCL) and PNB MetLife India Insurance Company Ltd. (PMLIC). He is also member on the Board of Trustees of Credit Fund Trust for Micro and Small Enterprises (CGTMSE) and Credit Risk Guarantee Fund Trust for Low Income Housing.

Past:
Shri Kamath was the Chairman of All Bank Finance Ltd. and President of Bankers' Club, Kolkata. He also held the Directorships in Indo Zambia Bank Ltd., Lusaka, Zambia, Bank of India (Tanzania) Ltd., P.T. Bank Swadesi, Djakarta, Indonesia, Star Union Dai-ichi Life Insurance Co. Ltd, Oriental Insurance Company Ltd. (OIC), Universal Sompo General Insurance Company Ltd., BOI Shareholding Ltd. and ASREC (India) Ltd.

Transform to outperform:
After having remained amongst the front runners of Indian Banking Industry, he has proactively rolled out "Organizational Transformation and Business Excellence Programme" viz. 'PNB Pragati' for future capacity building to meet expectations of the stakeholders of the Bank. He was also instrumental in PNB acquiring 30% stake in a profit making MNC Insurance Company PNB MetLife through an open and transparent process which has been hailed as a benchmark in the industry.