About Mumbai

Mumbai was named an alpha world city. It is also the wealthiest city in India, and has the highest GDP of any city in South, West or Central Asia.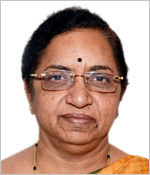 PROFILE
Mrs V. R. Iyer is a career banker. Joining Union Bank of India in December 1975, she has rich and varied exposure to branch banking, having headed Very Large branches in Pune and Mumbai. She was instrumental for setting up the Risk Management Deptt in 2000, inter alia putting in place various Risk Policies, developing Risk measures and structuring the reporting framework. In 2006-2007, she was responsible for bringing all 2500 branches of Union Bank on a single Core Banking platform and later on went on to head both the IT and Risk Management Verticals of the Bank, as its General Manager. She was also instrumental in the Bank expanding to Hong Kong, China and Dubai.
In September 2010, Mrs Iyer was elevated as Executive Director of Central Bank of India. During her tenure in Central Bank, she oversaw Credit, HR, IT and Credit Monitoring. She also spearheaded implementation of Core Banking in that Bank, as well as rolling out Alternate Delivery Channels and other initiatives on the Technology front.
Mrs Iyer assumed role of Chairperson and Managing Director in November 2012 and has powered the Bank ahead in various areas of business and control. The Bank has seen quantum growth in business during her tenure and is a leader in the PSU banking space.
Mrs. Iyer also holds the following Board level positions in various organisations as under:


Director, New India Assurance Co. Ltd.
Non Official Director, EXIM Bank
Alternative chairperson of Finance Committee, NIBM
Non Executive Chairperson, STCI Finance Ltd.
Director, STCI Primary Dealer Ltd.
Chairperson, BOI Shareholding Ltd.
Director and Chairperson, BOI AXA Investment Managers Pvt Ltd.
Chairperson, Alternate to Chairman IBA Committee on Risk Management and Basel Implementation, IBA
Director in Indo Zambia Bank Ltd.
Member of Advisory Committee on Mutual Funds