About Mumbai

Mumbai was named an alpha world city. It is also the wealthiest city in India, and has the highest GDP of any city in South, West or Central Asia.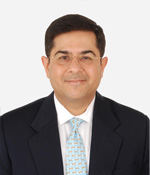 Vikram Tandon is the Head of Human Resources for HSBC in India, and has responsibility for driving HSBC's People Strategy in India and working towards building a high performance organisation.

Mr. Tandon is a Human Resources professional with 20+ years experience in the setting up and rapid scaling up of multiple businesses – Life Insurance, General Insurance, Private Equity, Asset Management, Real Estate Development & Investments, Mortgage Guaranty, Consumer Finance, Software Services, Business Process Outsourcing (BPO) and Wealth Management in different Geographies across the Mediterranean, Middle East and South Asia region.

Mr. Tandon has experience in leading teams of 150+ H R Professionals and has played a key role in enabling diverse businesses to succeed quickly by acquiring Top Management talent, leveraging Leadership Development & Training and instituting a strong Performance and Accountability orientation. He also has a thorough exposure to Banking, Grocery Retailing, FMCG distribution and Hospitality sectors.

Before taking up his current role in November 2010, Mr. Tandon was the Regional Human Resources Director, Mediterranean, Middle East & South Asia Region for American International Group (AIG).

Mr. Tandon has a MBA degree from XLRI, Jamshedpur, India. He is married with two children.