About Mumbai

Mumbai was named an alpha world city. It is also the wealthiest city in India, and has the highest GDP of any city in South, West or Central Asia.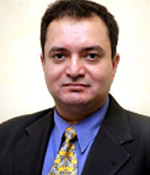 Rajesh joined Tata Interactive Systems (TIS) from his MBA Campus and has been with them for 17 years now, in diverse capacities. In his first year with TIS, he worked as an Instructional Designer and then a Project Manager before moving into Business Development and Sales. After selling in India for a couple of years, Rajesh relocated to the US to set-up the North America West Coast market for TIS and was based in California for about 3 years. He then moved and lived in the UAE for 6 years to set-up the Middle East market.
In 2007, Rajesh moved back to India as Chief Marketing Officer and in March 2013, he became Executive Vice President – APAC, Middle East & Africa.
Rajesh is an Executive Committee member at TIS with high exposure to Strategy, Sales & Marketing, specifically for the Indian, Middle East, Africa and other Emerging Markets. He is also responsible for identifying new geographies for TIS to venture into and is currently exploring all Emerging & Growth Markets.
In his 17 years with TIS, Rajesh has seen the entire evolution of eLearning or Technology Based Learning from Floppy Disks to Computer Based Training via CD-ROMs to Internet and Cloud solutions. He has specifically helped several banks in the Middle East adopt Technology Based Learning and helped them implement eLearning for improving Talent Management, Time to Competence, Performance Efficiencies etc. Some of these banks include names such as Mashreq Bank, Abu Dhabi Commercial Bank, Abu Dhabi Islamic Bank, First Gulf Bank, National Bank of Oman etc.
Rajesh holds a Bachelor of Engineering Degree with an Electronics Major and MBA in Marketing, both from Mumbai University. He has also completed an Executive Education Program on Strategy & Sales from Harvard Business School. Rajesh has excelled and won several Recognitions and Awards in academics, sports and extra-curricular activities. He was Cultural Secretary of both his Engineering and MBA colleges and was adjudged "Best All Rounder Student" of his Engineering College. Rajesh has also won the "Bombay Snooker League" and won honors at many Snooker & Billiards Tournaments.
Rajesh has regularly been featured in leading publications like the Times of India Group, Hindustan Times, Mint etc. and has also been an active speaker at leading Conferences & Forums across the globe.