About Mumbai

Mumbai was named an alpha world city. It is also the wealthiest city in India, and has the highest GDP of any city in South, West or Central Asia.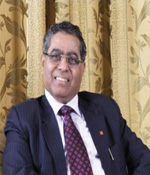 Shri M.V. Tanksale assumed charge as Chief Executive of Indian Banks' Association on 1st December 2013.
Shri Tanksale is enriched with a Bachelor degree of Science, a Master degree in English Literature and professional credentials like Fellow member of the Institute of Cost & Management Accountants of India (FCMA); Company Secretary (Inter) of the Institute of Company Secretaries of India; CAIIB.
He joined the Union Bank of India as a Probationary Officer on August 26, 1974 and elevated to the rank of General Manager. Thereafter Shri Tanksale was Executive Director of Punjab National Bank from March 26, 2009. Shri Tanksale also led Punjab National Bank for a brief period of 4 months. Shri Tanksale was elevated as Chairman and Managing Director of Central Bank of India on June 28, 2011.
A Visionary Banker for a span of more than 38 years, he has held several important fields and administrative positions, such as Deputy/Head - Credit Monitoring, International Banking and Planning, Research & Development, Marketing, Transaction Banking etc.
He also made outstanding contribution in promoting e-banking and third party products, viz., cash management service, insurance and mutual funds, etc. In his last assignment as General Manager – he had set up 'Transaction Banking Division' of the bank, wherein on the strength of technology based platform, the bank could put forth a wide array of products and services for the customers.
As Executive Director in Punjab National Bank, Shri Tanksale had effectively driven functional areas like Planning & Development, Marketing, Human Resources, Priority Sector & Financial Inclusion, IT, Inspection & Audit, Risk Management Division, Treasury Division, International Banking Division, Recovery Division, Financial Inclusion etc.
Shri Tanksale in his first day communication to employees promised to treat them as his first customer. He strongly believes that a satisfied employee brings delight to Bank's customers. He implemented this philosophy in letter and spirit.
Optimal use of technology for customer centric products is hall mark of his work culture. Introduction of e-Lobby, Digital marketing, Tie-up with State Governments and Corporates for e-payment solution, Financial Inclusion are receiving focussed attention from him.
A man with intense HR orientation brought structural changes by empowering Regional Managers for fast decision and Zonal Offices have been made responsible for business facilitation and marketing. Thus structural changes for more leaner organization has improved efficiency & decision making.
Due to his HR initiates, Central Bank of India has been adjudged the winner of GOLDEN PEACOCK HR EXCELLENCE AWARD 2012. The Sunday Standard (The New Indian Express Group) also awarded him the Best Banker Award. He has also been conferred the title of PERSON OF THE YEAR for his contribution in the area of Financial Inclusion by SKOCH Foundation.
Shri Tanksale was also on the Board of Life Insurance Corporation of India, Indo Zambia Bank Ltd. He was also ex-officio Chairman of Cent Bank Home Finance Limited and Cent Bank Financial Services Ltd.
Shri Tanksale was Chairman of H R Committee of Indian Banks' Association.
He is a member of the National Governing Council of Institute of Cost Accountants of India.
His hobbies include Sports, Music, Reading & Travelling.